The 3 Rivers Road Runners have been running strong in the Tri-Cities, Washington since the late 1970's.  Over the years, club members have logged tens of thousands of miles on foot or on a bike, not to mention those pool and river swims! One of our distinguished members has run over 100 marathons!  Several club members have finished multiple Ironman triathlons!  But the club isn't just for experienced runners and triathletes… we welcome all who share our lifestyle of enjoying a good swim, bike, or run. The 3 Rivers Road Runners are for runners and triathletes of all shapes and sizes, from the veteran ultramarathoner or Ironman triathlete to the beginner working towards that first 5 km fun run or sprint triathlon, and everyone in between.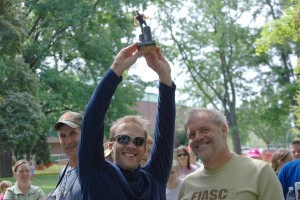 The primary goal of the 3 Rivers Road Runners is to promote running and multi-sport events in the Tri-Cities. Besides providing events for our members and athletes in the region, with our events we hope to attract new athletes to the club that can benefit from the healthful, positive lifestyle gained through running and multi-sport. Over the years, one primary focus has been fitness for the children in our area and the battle against childhood obesity. We have been able to provide free entry to all of our 1 and 2 mile running events for children 15 years old and younger. We have helped raise thousands of dollars for local elementary school physical education programs through our Leprechaun Dash fun run in March. And at a very reasonable cost, children 15 and younger in the region get to experience the thrill of triathlon every August through our Titanium Man Junior Triathlon. Our running club not only gives back to the running community, we give back to the community at large.
The annual menu of events hosted by the 3 Rivers Road Runners offers a wide variety with something for everyone. Foot races/fun runs vary from one-milers to our 26.2-mile Tri-Cities Marathon. We also offer a variety of multi-sport events, such as triathlons and duathlons, that combine biking and/or swimming with running. And for those that may not participate in a specific event, we always appreciate those folks that give back to the running community by volunteering to help at a 3RRR event.